A study* released by the Corporate Mapping Project (CMP), a watchdog organization indicates that public pensions could be overly invested in the fossil fuel industry. This is a concern as international agreements signed by Canada are directed to reducing emissions, while public money is invested in an agenda that requires growth and production in a sector which is in decline.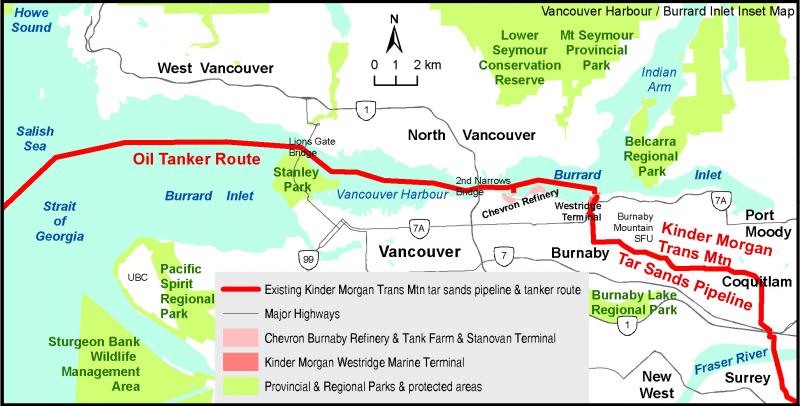 Figure 1. Map of proposed expansion current pipeline and tanker route – Kinder Morgan / Trans Mountain Pipeline. (1)

Figure 2. Map of impact of refinery facilities and proximity to conservation areas, a University, a Salmon spawning inlet, residential housing and major transport routes. (1)
The area that will be impacted by the growth of the facility are diverse and vulnerable. This is not a brownfield development, and in fact is on the side of a mountain and part of a larger watershed. Serious consideration should be given to relocating the facility or decommissioning.
There are alternate locations better suited for this type of high hazard industrial facility, away from sensitive areas and remote from populations and high traffic harbours. Why are these alternatives not being discussed?
Here's a snippet taken from the introduction of the report and their findings. How can we stop carbon emissions when local investing strategies are in the opposite direction? Are public pension funds safely invested and competently managed? Likely not.
CMP researchers Zoë Yunker, Jessica Dempsey and James Rowe chose to look into BCI's investment practices because it controls one of the province's largest pools of wealth ($135.5 billion) — the pensions of over half-a-million British Columbians. Which means BCI's decisions have a significant impact on capital markets and on our broader society.

Their research asked, "Is BCI is investing funds in ways that effectively respond to the climate change crisis?"

Unfortunately, the answer is "No." BCI has invested billions of dollars in companies with large oil, gas and coal reserves — companies whose financial worth depends on overshooting their carbon budget — and is even increasing many investments in these companies.

As another recent CMP study clearly shows what's at stake. Canada's Energy Outlook, authored by veteran earth scientist David Hughes, reveals that the projected expansion of oil and gas production will make it all but impossible for Canada to meet our emissions-reduction targets. The study also shows that returns to the public from oil and gas production have gone down significantly. (2)
*This study is part of the Corporate Mapping Project (CMP), a research and public engagement initiative investigating the power of the fossil fuel industry. The CMP is jointly led by the University of Victoria, Canadian Centre for Policy Alternatives and the Parkland Institute. This research was supported by the Social Science and Humanities Research Council of Canada (SSHRC).
References: