See on Scoop.it – Green & Sustainable News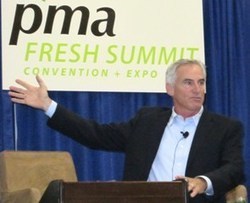 ANAHEIM, Calif. — For growers, measuring the benefits and costs of sustainable practices is a process that somehow manages to be both reassuring and threatening — and something that must be addressed by suppliers to Wal-Mart, which plans to roll…
But Mark Gale, president of Charleston Orwig, said growers fear the information will be turned against them.
"As soon as they start sharing it with Wal-Mart or McDonald's, the next step will be the buyer forcing measurement down on growers in ways they can't deal with," he said.
…
"…. asked why growers, some who have long histories as suppliers, shouldn't be taken at face value as protectors of natural resources and the matter dropped.
"The reality is we're going to be held more and more accountable for the way we produce food," Pezzini said. "Like the food safety issue, I'd rather be in there creating something than having it handed to me." "
See on www.thepacker.com