See on Scoop.it – Green Energy Technologies & Development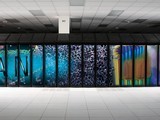 The technology that animates video games enables a leap in science, as the U.S. government deploys Titan, the most powerful "hybrid" supercomputer yet.
"The Titan system at the U.S. Department of Energy's (DOE) Oak Ridge National Laboratory in Tennessee is a leading contender to top the industry's official list of the world's fastest supercomputers, to be announced next month in Salt Lake City. It can handle 20,000 trillion calculations each second…"
"But Titan's signature achievement is how little energy it burns while blazing through those computations.
Titan's predecessor supercomputer at Oak Ridge, the 2.3-petaflop Jaguar machine, drew 7 megawatts (MW) of electricity, enough to power a small town. Titan needs just about 30 percent more electricity, 9 MW, while delivering ninefold greater computing power."
See on news.nationalgeographic.com