See on Scoop.it – Green Energy Technologies & Development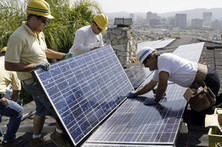 What technological breakthrough is most likely in the next 10 years that could completely change the energy equation as we now see it?
Duane Tilden's insight:
Jeffrey Ball: Information Technologies to Increase Efficiency, and Solar Power Seem Promising
Predicting new-energy technological breakthroughs tends to be a fool's errand. A decade ago, few envisioned the breakthrough that has most rocked the U.S. energy world: the one-two punch of fracking and horizontal drilling that has unlocked huge stores of shale gas from California to New York.
Right now, two broad areas of new energy technology seem particularly promising: information technologies that could spur major energy-efficiency improvements; and cheaper and more-reliable solar power. […]
Study after study has pegged energy efficiency as the lowest-cost way to curb fossil-fuel consumption and the resulting greenhouse-gas emissions. The problem has been figuring out how to unlock those efficiency improvements in the real world. Today, creative minds are at work developing electronic systems to track and display the energy use of institutional and individual consumers in ways that could make those users much more conscious both about how much energy they consume and about precisely what they could do to cost-effectively consume less. More information, in short, could equal less power.
See on online.wsj.com