See on Scoop.it – Green Building Design – Architecture & Engineering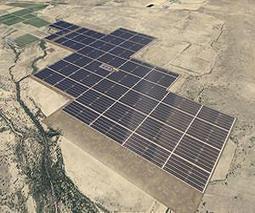 Mountain View CA (SPX) Sep 20, 2013 – … robotic technologies deliver revolutionary installation and cleaning services at highly competitive prices … for building and maintenance of utility-scale solar plants..
Duane Tilden's insight:
>The typical installation process for utility-scale projects is similar to that of a small-scale, 20-panel, residential installation. Despite incremental improvements to the process, a 200,000-panel installation has retained many of the characteristics of a 20-panel installation.
They are both labor-intensive, and require repetitive bolt-tightening and glass-hauling. While these are minor flaws in a 20-panel system, they create significant inefficiencies in 20,000- or 200,000-panel systems.
Alion Energy has plugged the shortcomings of the current installation methods by changing the materials and design used in the mounting structure as well as by automating the installation. By combining robotic installation technology with established construction practices, Alion Energy has built a system twice as fast and 75 percent more labor-efficient that lowers solar electricity's levelized cost of energy (LCOE) to compete with traditional energy sources.<
See on www.solardaily.com