See on Scoop.it – Green Energy Technologies & Development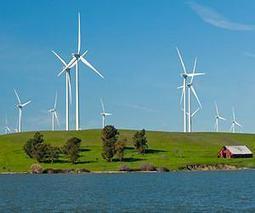 Stanford CA (SPX) Sep 17, 2013 –
Renewable energy holds the promise of reducing carbon dioxide emissions. But there are times when solar and wind farms generate more electricity than is needed by consumers.
Duane Tilden's insight:
>"We calculated how much energy is used over the full lifecycle of the battery – from the mining of raw materials to the installation of the finished device," Barnhart said. "Batteries with high energetic cost consume more fossil fuels and therefore release more carbon dioxide over their lifetime. If a battery's energetic cost is too high, its overall contribution to global warming could negate the environmental benefits of the wind or solar farm it was supposed to support."
For this study, he and his colleagues calculated the energetic cost of grid-scale photovoltaic solar cells and wind turbines.
"Both wind turbines and photovoltaics deliver more energy than it takes to build and maintain them," said GCEP postdoctoral scholar Michael Dale, a co-author of the study. "However, our calculations showed that the overall energetic cost of wind turbines is much lower than conventional solar panels, which require lots of energy, primarily from fossil fuels, for processing silicon and fabricating other components." […]
To find out, the researchers compared the energetic cost of curtailing solar and wind power, versus the energetic cost of grid-scale storage. Their calculations were based on a formula known as "energy return on investment" – the amount of energy produced by a technology, divided by the amount of energy it takes to build and maintain it.
Using that formula, the researchers found that the amount of energy required to create a solar farm is comparable to the energy used to build each of the five battery technologies. "Using batteries to store solar power during periods of low demand would, therefore, be energetically favorable," Dale said.
The results were quite different for wind farms. The scientists found that curtailing wind power reduces the energy return on investment by 10 percent. But storing surplus wind-generated electricity in batteries results in even greater reductions – from about 20 percent for lithium-ion batteries to ?more than 50 percent for lead-acid.<
See on www.solardaily.com