In the world of energy production, renewable energy sources, micro grids, large scale users, and other forms of electric power schemes there is a concentrated effort being placed on utilizing the Blockchain protocol.  This is because of the unique way in which a unit may be defined and tracked, similarly, can be associated to tracking quantities of value created and utilized in a complex trading scheme.
In a recent article (1) it has been reported that Jesse Morris, principal for electricity and transportation practices at RMI and co-founder of the Energy Web Foundation (EWF) received $2.5 million to develop the Blockchain protocol for energy purposes.
"We have a strong hypothesis that blockchain will solve a lot of long-running problems in the energy sector," said Morris. "Overcoming these challenges could make small, incremental changes to energy infrastructure and markets in the near term, while others would be more far-reaching and disruptive."

Certificates (also known as guarantees) of origin would assure the user that a particular megawatt-hour of electricity was produced from renewables. According to Morris, the U.S. alone has 10 different tracking systems, Asia-Pacific has several more, and each European country has its own system of certification. Blockchain could be used to transparently guarantee the origin of the electrons.

Longer-term, and more radically, RMI sees the future of electricity networks being driven by the billions of energy storage and HVAC units, EVs, solar roof panels and other devices and appliances at the grid edge.

Blockchains can allow any of them to set their own level of participation on the grid, without the need for an intermediary. And crucially, they can be configured so that if a grid operator needs guaranteed capacity, the grid-edge unit can communicate back to the grid whether or not it's up to the task.

This is an example of what Morris described as blockchain's ability to "fuse the physical with the virtual" via machine-to-machine communication.  (1)
Another example of the emergence of the usefulness and interest in the Blockchain protocol is in crowdsourcing and distributed ledger applications.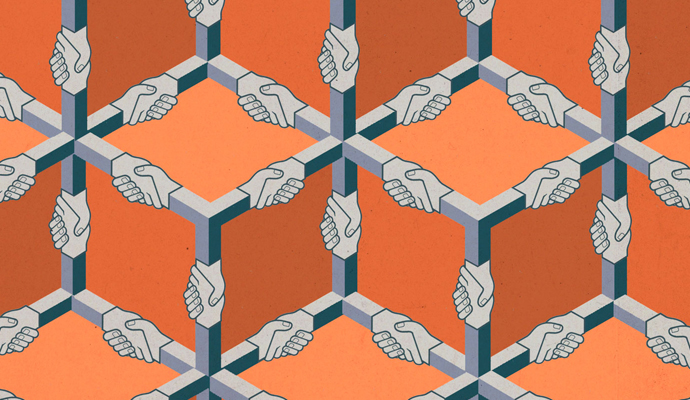 Illustration by Dan Page (2)
At its heart, blockchain is a self-sustaining, peer-to-peer database technology for managing and recording transactions with no central bank or clearinghouse involvement. Because blockchain verification is handled through algorithms and consensus among multiple computers, the system is presumed immune to tampering, fraud, or political control. It is designed to protect against domination of the network by any single computer or group of computers. Participants are relatively anonymous, identified only by pseudonyms, and every transaction can be relied upon. Moreover, because every core transaction is processed just once, in one shared electronic ledger, blockchain reduces the redundancy and delays that exist in today's banking system.

Companies expressing interest in blockchain include HP, Microsoft, IBM, and Intel. In the financial-services sector, some large firms are forging partnerships with technology-focused startups to explore possibilities. For example, R3, a financial technology firm, announced in October 2015 that 25 banks had joined its consortium, which is attempting to develop a common crypto-technology-based platform. Participants include such influential banks as Citi, Bank of America, HSBC, Deutsche Bank, Morgan Stanley, UniCredit, Société Générale, Mitsubishi UFG Financial Group, National Australia Bank, and the Royal Bank of Canada. Another early experimenter is Nasdaq, whose CEO, Robert Greifeld, introduced Nasdaq Linq, a blockchain-based digital ledger for transferring shares of privately held companies, also in October 2015. (2)
References: