See on Scoop.it – Green & Sustainable News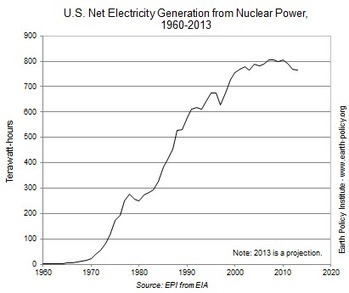 By J. Matthew RoneyNuclear power generation in the United States is falling. After increasing rapidly since the 1970s, electricity generation at U.S. nuclear plants began to grow more slowly in the…
Duane Tilden's insight:
>Of the 253 reactors that were ordered by 1978, 121 were canceled either before or during construction, according to the Union of Concerned Scientists' David Lochbaum. Nearly half of these were dropped by 1978. The reactors that were completed—the last of which came online in 1996—were over budget three-fold on average.
By the late 1990s, 28 reactors had permanently closed before their 40-year operating licenses expired. […]
In 2012, the U.S. Nuclear Regulatory Commission (NRC) approved four new reactors for construction, two each at the Vogtle plant in Georgia and the Summer plant in South Carolina. These reactors are all of the same commercially untested design, purportedly quicker to build than previous plants. Both projects benefit from fairly new state laws that shift the economic risk to ratepayers. These "advanced cost recovery" laws, also passed in Florida and North Carolina, allow utilities to raise their customers' rates to pay for new nuclear plants during and even before construction—regardless of whether the reactors are ever finished.
Construction at both sites began in March 2013. Even as the first concrete was poured at the $14-billion Vogtle project, it was reportedly 19 months behind schedule and more than $1 billion over budget. The Summer project, a $10 billion endeavor, also quickly ran into problems. […] With these delays, the earliest projected completion date for any of these reactors is some time in late 2017. […]
This year has also already witnessed the permanent shutdown of four reactors totaling 3.6 gigawatts of capacity. The first to fall was Duke's Crystal River reactor in Florida. Although the plant was licensed to run until 2016, Duke decided to close it rather than pay for needed repairs. Then Dominion Energy's 39-year-old Kewaunee reactor in Wisconsin closed, citing competition from low gas prices. It had recently been approved to operate through 2033. And in June, Southern California Edison shuttered its two San Onofre reactors after 18 months of being offline due to a leak in a brand new steam generator. These retirements leave the United States with 100 reactors, averaging 32 years in operation. (France is second, with 58 reactors.)
More closures will soon follow, particularly among the roughly half of U.S. reactors in so-called merchant areas […]
Dealing with nuclear waste is another expensive proposition. Over the past 30 years, the U.S. government has spent some $15 billion trying to approve a central repository for nuclear waste, and for most of that time the only site under consideration has been Nevada's Yucca Mountain. Amid concerns about the site's safety and its extreme unpopularity in Nevada, the Obama administration has moved to abandon the project entirely and explore other options.
A federal appeals court ruled in August 2013 that the NRC must resume reviewing the site's suitability. In the meantime, the waste keeps accumulating. The 75,000 tons of waste now stored at 80 temporary sites in 35 states is projected to double by 2055. […]
See on grist.org