See on Scoop.it – Green Energy Technologies & Development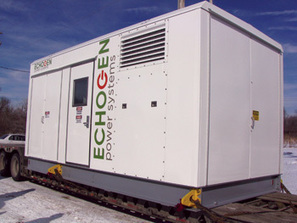 The first production unit of the EPS100 7.5 MWe heat engine is completing factory checkout tests at Dresser-Randbtd…
Duane Tilden's insight:
>Energy-intensive manufacturing
In an increasingly competitive environment, manufacturers are seeking to cut their costs. Fluctuating energy prices often channel this investment into cost-effective energy-saving technologies and practices that will reduce operating costs while maintaining or increasing product quality and yield.
Energy-efficient technologies often bring other benefits, such as higher productivity or environmental gains, reducing the regulatory 'burden'. Waste heat can be captured from many industrial processes through waste heat recovery technology. […]
Waste heat recovery represents the greatest opportunity for reducing energy loss in these industries while simultaneously reducing their carbon footprint and associated greenhouse emissions with improved overall energy production efficiency.[…]
The outlook for scCO2
Supercritical CO2 heat engines are scalable across a broad system size range, from 250 kWe to 45 MWe and above, with net electrical output to support the widest possible variety of industrial and utility-scale applications.
The sCO2 Cycle is thermal source neutral − suitable with a wide range of heat sources from 200°C to 500°C with efficiencies up to 30%. New energy production can be offset with recovered energy without increasing greenhouse emissions while improving overall energy production efficiency. The scCO2 heat engine can add up to 35% more power to simple-cycle gas turbines, 10–15% more power to reciprocating engines, and can significantly improve the energy efficiency and bottom line performance at steel mills, cement kilns, glass furnaces and other fuel-fired industrial processes by converting previously wasted exhaust and flue gas energy into usable electricity.
Alex Kacludis is an Application Engineer at EPS LLC; www.echogen.com
See on www.cospp.com