See on Scoop.it – Green Building Operations – Systems & Controls, Maintenance & Commissioning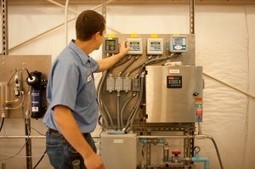 Today more than ever, businesses are concerned with maximizing operational efficiency, minimizing costs, and seeking out untapped revenue streams. At the same
Duane Tilden's insight:
>Large energy users like many commercial, institutional, and industrial organizations have a unique opportunity to act as a "virtual power plant" while reducing their real-time demand for electricity—and opening up a new revenue stream. This strategy, known as demand response, is not only a cost-free way to reduce energy usage, but also it generates payments for participating businesses simply for being on call.
Demand response providers work with commercial, institutional, and industrial businesses to identify ways for facilities to reduce energy consumption without affecting business operations, comfort, or product quality. In turn, those facilities agree to reduce their demand during strategic times so that utilities and grid operators can improve reliability during times of peak demand. Demand response also helps increase economic efficiency in regional energy markets and integrate renewable generation capacity into generation systems.
Demand response can be considered a form of strategic energy efficiency, but what about long-term, persistent energy efficiency, a second key to a comprehensive energy management program? In even the most high-tech, LEED Platinum certified buildings, it can be very difficult to ensure efficient operation over time. […]<
See on www.dailyenergyreport.com