See on Scoop.it – Green & Sustainable News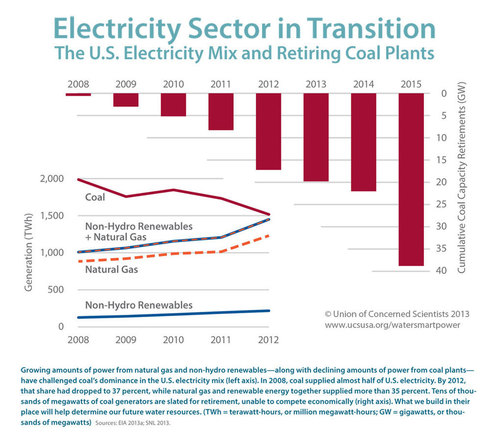 The US can affordably and sustainably meet its energy and water needs by pursuing a "renewables-and-efficiency" path, according to a new EW3 report.
Duane Tilden's insight:
>The current system of power generation in the U.S., according to EW3, "clearly cannot meet our needs in a future of growing demand for electricity, worsening strains on water resources, and an urgent need to mitigate climate change."
What's urgently needed, they assert, is a system of power generation that is much more resilient – one that is not only much less dependent on water, but one that can operate sustainably in a warming climate and, at the same time, help mitigate climate change. With the release of its second report, EW3 advocates making decisions today that puts U.S. society firmly on such a path. […]
EW3′s research team constructed two long-term scenarios in order to better understand and analyze the implications of decisions made today regarding electricity production in the U.S. in terms of water usage and greenhouse gas emissions.
Pursuing a business-as-usual path that would see natural gas combustion growing to account for 60 percent of U.S. power generation in coming decades "would fail to reduce carbon emissions, and would not tap opportunities to safeguard water," EW3′s research team found. In sharp contrast, both water usage and carbon emissions in the power sector would drop much further, and faster, under a "renewables-and-efficiency" scenario.
Under the renewables-and-efficiency scenario, both water withdrawals and consumption by the power sector would be less than half of today's levels by 2030. By 2050, water withdrawals would be 97 percent below today's levels while water consumption would drop 85 percent – nearly 80 percent below the business-as-usual scenario.<
See on www.triplepundit.com