See on Scoop.it – Green Energy Technologies & Development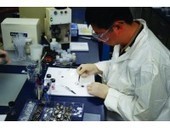 Energy Scavenging is just one way ARL experts are getting more from existing resources, said Dr. Edward Shaffer, who is the Energy and Power Division Chief at the lab. Energy harvesting is critical to realize "net zero" energy use, a key element of the…
Duane Tilden's insight:
Department of Defense operational energy is an emerging area being shaped. It is what is required to train, move, and sustain forces, weapons, and equipment for military operations. It accounted for 75 percent of all energy used by DOD in 2009, according to the Energy website for DOD. It was in May 2011, when the Assistant Secretary of Defense for Operational Energy, Plans and Programs defined an operational energy strategy, and then published Operational Energy for the warfighter, a guide that would transform the way the DOD consumes energy in military operations.
Shaffer has a wide view of the energy needs across Army, DOD and interagency forums that explore complimentary ways of addressing energy and power technology gaps and reduce duplicated efforts, including the DOD Energy and Power Community of Interest and the Interagency Advanced Power Group that includes agencies like the Department of Energy and NASA. These communities are comprised of scientists, engineers, subject matter experts, technologists and program managers with a common interest in promoting innovative energy and power solutions for the nation.
At ARL, the future is a seamless energy architecture that begins with concepts like SmartBED, Long-lived Power and Fuel-Reforming for better energy convergence.