See on Scoop.it – Green & Sustainable News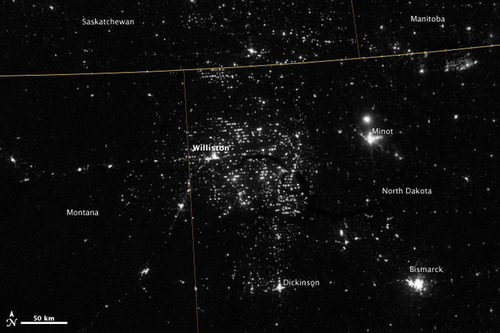 Cities and people are scarce in northwestern North Dakota, but nighttime satellite imagery shows the Bakken Formation aglow with brightly-lit drilling equipment.
Duane Tilden's insight:
Northwestern North Dakota is one of the least-densely populated parts of the United States. Cities and people are scarce, but satellite imagery shows the area has been aglow at night in recent years. The reason: the area is home to the Bakken shale formation, a site where gas and oil production are booming.
On November 12, 2012, the Visible Infrared Imaging Radiometer Suite (VIIRS) on the Suomi NPP satellite captured this nighttime view of widespread drilling throughout the area. Most of the bright specks are lights associated with drilling equipment and temporary housing near drilling sites, though a few are evidence of gas flaring. Some of the brighter areas correspond to towns and cities including Williston, Minot, and Dickinson. …
See on earthobservatory.nasa.gov