See on Scoop.it – Green & Sustainable News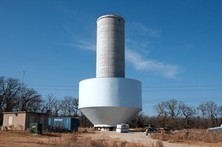 In a wealthy Dallas suburb, some residents are complaining about the noise and traffic that would result from a water tower used for fracking. One of the tower's critics is Exxon CEO Rex Tillerson.
Duane Tilden's insight:
>"He and his neighbors had filed suit to block the tower, saying it is illegal and would create "a noise nuisance and traffic hazards," in part because it would provide water for use in hydraulic fracturing. Fracking, which requires heavy trucks to haul and pump massive amounts of water, unlocks oil and gas from dense rock and has helped touch off a surge in U.S. energy output.
It also is a core part of Exxon's business.
Rex Tillerson
While the lawsuit Mr. Tillerson joined cites the side effects of fracking, a lawyer representing the Exxon CEO said he hadn't complained about such disturbances. "I have other clients who were concerned about the potential for noise and traffic problems, but he's never expressed that to me or anyone else," said Michael Whitten, who runs a small law practice in Denton, Texas. Mr. Whitten said Mr. Tillerson's primary concern is that his property value would be harmed.
An Exxon spokesman said Mr. Tillerson declined to comment. The company "has no involvement in the legal matter" and its directors weren't told of Mr. Tillerson's participation, the spokesman said.
The dispute over the 160-foot water tower goes beyond possible nuisances related to fracking. Among the issues raised: whether a water utility has to obey local zoning ordinances and what are the rights of residents who relied on such laws in making multi-million-dollar property investments. The latter point was the focus of Mr. Tillerson's comments at the November council meeting."<
See on online.wsj.com