See on Scoop.it – Green & Sustainable News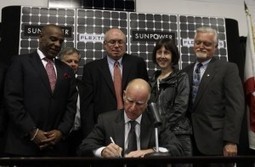 Gov. Jerry Brown signs bill requiring California utilities to get a third of their power from renewable sources, the country's most aggressive clean energy standard (AP Photo)
Duane Tilden's insight:
Green jobs are growing four times faster than the rate of all other jobs nationwide, with the majority happening in California according to the Bureau of Labor Statistics. EDF's analysis of California's clean economy finds that jobs in core sectors like energy efficiency, renewable energy, clean transportation, and advanced storage and materials have not only remained resilient during the worst of the Great Recession (2008-2010), they outpaced all other job growth and grew 109 percent from 1995 to 2010.
Green jobs are also good jobs in California. They are diverse, across a wide range of education-level and skills, and almost half of all jobs in the clean economy don't require a college degree according to the Brookings Institution. On average, green jobs offer a higher median wage and career advancement opportunities. An analysis by Philip Romero, the former Dean of CSU Los Angeles College of Business and Economics finds that "workers command wages with a 50-to-100 percent premium over the average job," and estimates that the overall clean economy will grow "by at least 60-to-100 percent" by the late 2030's.
See on thinkprogress.org