See on Scoop.it – Green Energy Technologies & Development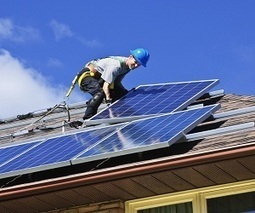 As facility managers and building owners prepare for another year of green pushes and renewable energy options, has research determined a winner in the photovoltaic vs. biofuel energy battle?
Duane Tilden's insight:
[…] in a paper titled "Spatially Explicit Life Cycle Assessment of Sun-to-Wheels Transportation Pathways in the U.S." and published in the Dec. 26 issue of the journal Environmental Science & Technology, showed photovoltaics (PV) to be much more efficient than biomass at turning sunlight into energyto fuel a car.
"PV is orders of magnitude more efficient than biofuels pathways in terms of land use – 30, 50, even 200 times more efficient – depending on the specific crop and local conditions," says Geyer. "You get the same amount of energy using much less land, and PV doesn't require farm land."
The researchers examined three ways of using sunlight to power cars: a) the traditional method of converting corn or other plants to ethanol; b) converting energy crops into electricity for BEVs rather than producing ethanol; and C) using PVs to convert sunlight directly into electricity for BEVs.
… "The cost of solar power is dropping, and our quick calculations suggests that with the federal tax credit, electric vehicles are already competitive."
What does this mean for the future?
"What it says to me is that by continuing to throw money into biofuels, we're barking up the wrong tree," Geyer explains. …
See on www.buildings.com