See on Scoop.it – Green Energy Technologies & Development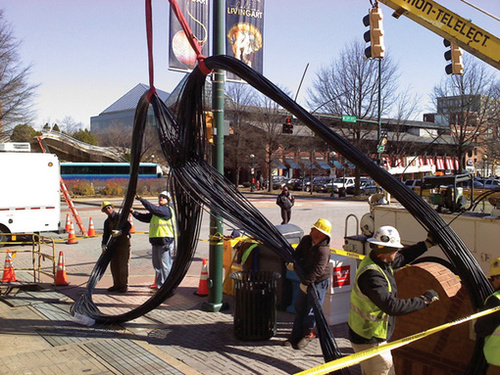 EPB Deploys America's Fastest Fiber-optic Smart Grid – Lee Baker, Smart Grid Consultant – While many utilities struggle with the question of whether or not to build a Smart Grid, for the Electric Power Board (EPB) in …
Duane Tilden's insight:
Chattanooga: The Smarter City
EPB [Electric Power Board] is one of the first community-owned utilities to install a 100% fiber-optic network, which uses the fiber optic network for Smart Grid applications, in addition to the triple-play media services (i.e., high speed Internet, video and telephone) EPB already provides.
"Chattanooga is light years ahead when it comes to providing ultra fast broadband," said Tom Edd Wilson, President and CEO of the Chattanooga Area Chamber of Commerce. "By offering the fastest available speeds to a whole community comprising a diverse population living in both urban and rural areas, Chattanooga has become the living laboratory for today's innovations and tomorrow's companies."
EPB has built fiber optics throughout their entire customer service area and communications services are now available to all homes and businesses. By the end of 2012, all 170,000 homes and businesses will be equipped with a Tantalus smart meter.
[…] EPB already has 22 large industries signed up for a time-of-use (TOU) rate program, and its projected that together they will save $2.3 million a year. Those kinds of savings help businesses run more efficiently and bring jobs to the community.
"What makes Chattanooga stand out is that it is leveraging the network both for a full range of Smart Grid applications and communications connectivity," Wade added.
"We looked at how the communication system and the electric system interact for many years and realized how closely tied together they are. As costs have stabilized and technology matured, we felt that the time was right to proceed with the project."
"We're building this network not just for today but for the future. The system we're building will provide rapid, two-way communications with every meter, home and device, making it possible and practical for our customers to interact with their energy use as never before."
See on www.electricenergyonline.com