See on Scoop.it – Green Energy Technologies & Development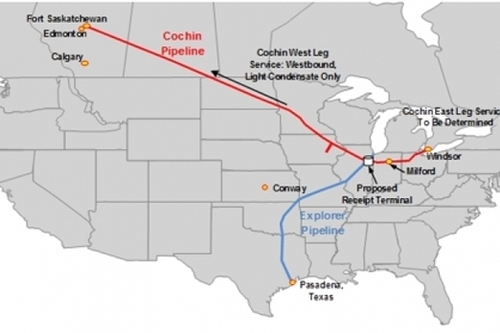 But the pipeline has problems with stress corrosion cracking. Is it safe to expand?
Duane Tilden's insight:
>Kinder Morgan Cochin LLC is now allowed to reverse and expand to build a 1,900-mile proposed pipeline to transport gas produced by hydraulic fracturing of the Eagle Ford Shale basin in Texas north into Alberta. It would carry gas condensate that is used to dilute the bitumen in the tar sands. The extra-thick oil produced in the tar sands needs to be cut with 30 per cent condensate so it can be carried, according to the Financial Post.
The Cochin pipeline has had some safety issues in the past, however. Last year, the National Energy Board sent Kinder Morgan a letter regarding Stress Corrosion Cracking (SCC) failure in the U.S. back in 2003. At the time, the U.S. Pipeline and Hazardous Materials Safety Administration (PHMSA) issued an order imposing a 20 per cent pressure restriction on the pipeline. Kinder Morgan later voluntarily imposed a further restriction on the operating pressure and received approval to increase  the operating pressure of the pipeline in US to 6895 kPa (1000 psi) in March 2012.<
See on www.vancouverobserver.com