See on Scoop.it – Green & Sustainable News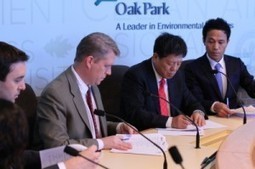 The village of Oak Park, a suburb west of Chicago, was recently selected from a list of competing volunteer neighborhoods to be the test site for smart grid technology.
Duane Tilden's insight:
The project is a joint venture between the Korean Smart Grid Institute and the Institute for Sustainable Energy Development, and will involve placing a set of twelve or thirteen 3-kilowatt solar panels, along with a battery system, on the roofs of 100 residential and 100 multifamily buildings. They'll also all be linked up to an electrical grid boasting smart meters, and once the test run of the system is over the building owners will get to keep the installations, worth $20,000 to $30,000 [each].
The [scenario for Oak Park homeowners] we talk about the most is this idea of collecting the solar energy during the day and storing it in the battery and then having the house run on the battery at night so you're completely offline at night and the battery provides a phantom load — your clocks, TV.
The [average number of outages] for Oak Park is 45 minutes per year. What the number doesn't tell you about is the stories I hear when [residents] call up on day three of still not having power. Then I get calls from restaurants. You're talking about an entire week's or month's inventory gone.
See on thinkprogress.org