See on Scoop.it – Green & Sustainable News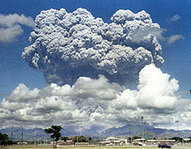 With prominent scientists now calling for experiments to test whether pumping sulfates into the atmosphere could safely counteract global warming, critics worry that the world community may be moving a step closer to deploying this controversial…
Duane Tilden's insight:
>Now some scientists are thinking about replicating Mount Pinatubo's dramatic cooling power by intentionally spewing sulfates into the atmosphere to counteract global warming. Studies have shown that such a strategy would be powerful, feasible, fast-acting, and cheap, capable in principle of reversing all of the expected worst-case warming over the next century or longer, all the while increasing plant productivity. Harvard University physicist David Keith, one of the world's most vocal advocates of serious research into such a scheme, calls it "a cheap tool that could green the world." In the face of anticipated rapid climate change, […]
University of Chicago geophysicist Raymond Pierrehumbert has called the scheme "barking mad." Canadian environmentalist David Suzuki has dismissed it as "insane." Protestors have stopped even harmless, small-scale field experiments that aim to explore the idea. And Keith has received a couple of death threats from the fringe of the environmentalist community.
Clearly, there are good reasons for concern. Solar geoengineering would likely make the planet drier, potentially disrupting monsoons in places like India and creating drought in parts of the tropics. The technique could help eat away the protective ozone shield of our planet, and it would cause air pollution. […]
As Keith himself summarizes, "Solar geoengineering is an extraordinarily powerful tool. But it is also dangerous."
Studies have shown that solar radiation management could be accomplished and that it would cool the planet. Last fall, Keith published a book, A Case for Climate Engineering, that lays out the practicalities of such a scheme. A fleet of ten Gulfstream jets could be used to annually inject 25,000 tons of sulfur — as finely dispersed sulfuric acid, for example — into the lower stratosphere. That would be ramped up to a million tons of sulfur per year by 2070, in order to counter about half of the world's warming from greenhouse gases. The idea is to combine such a scheme with emissions cuts, and keep it running for about twice as long as it takes for CO2 concentrations in the atmosphere to level out.
Under Keith's projections, a world that would have warmed 2 degrees C by century's end would instead warm 1 degree C. Keith says his "moderate, temporary" plan would help to avoid many of the problems associated with full-throttle solar geoengineering schemes that aim to counteract all of the planet's warming, while reducing the cost of adapting to rapid climate change. He estimates this scheme would cost about $700 million annually — less than 1 percent of what is currently spent on clean energy development. If such relatively modest cost projections prove to be accurate, some individual countries could deploy solar geoengineering technologies without international agreement. <

See on e360.yale.edu