See on Scoop.it – Green Energy Technologies & Development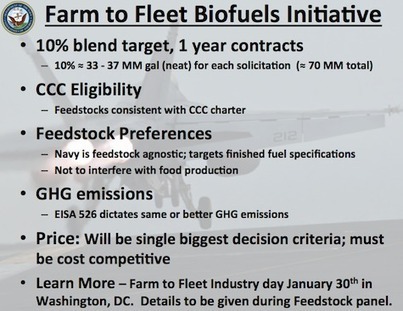 In Washington, U.S.Secretary of Agriculture Tom Vilsack and Navy Secretary Ray Mabus unveiled the "Farm to Fleet" program, through which the Navy will begin to add biofuels into its regular domestic purchases of approximately 77 million gallons of…
Duane Tilden's insight:
>The Navy's Transition to Biofuels: Testing and Certification
The Navy began testing aviation biofuels and marine biofuels on a ship-by-ship and jet-by-jet basis several years ago. Last summer, the Navy demonstrated a Green Strike Group operating on biofuels during the 2012 RIMPAC exercises.[RIMPAC is the world's largest international maritime warfare exercise, held every two years out of Pearl Harbor, Hawaii, hosted by the US Pacific Fleet and featuring 22 nations and 42 ships in 2012, enhancing interoperability between Pacific Rim armed forces].
"It was at RIMPAC," McGinn observed, "that we really got an end-to-end view on all the supply chain issues. Now, we are ready to deploy quickly. Now, it's down to business. The intention now is to alert industry that we are open for business and that we are starting this program in a very realistic way."
The Navy's Transition to Biofuels: Capacity Building and Assurance of Supply
Alongside the testing and certification efforts, the Navy, USDA and DOE had announced a program in 2012 to directly invest up to $510 million, through the DPA Title III office and Commodity Credit Corporation (CCC), in order to assure that capital would be available to build production capacity and offset feedstock costs for drop-in biofuels that would meet the Navy's needs, timelines and cost goals.
[Note for newer readers: DOE and DOD's portion goes to DPA Title III to build biorefineries, USDA's portion is in CCC funds to address feedstock development.]<
See on www.renewableenergyworld.com