See on Scoop.it – Green Building Design – Architecture & Engineering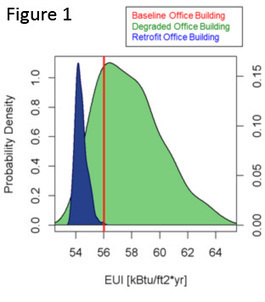 Deploying private capital for energy efficiency retrofits "could" be transformational, "but" investors lack the confidence in energy savings estimates against which lenders would underwrite loans. How do we boost that confidence?
Duane Tilden's insight:
>[…]Those seeking capital for energy project investments need to do a better job presenting risk information to decision makers. Simple payback, return on investment, or even life-cycle-cost models do not provide sufficient information on risks and rewards. Investors cannot properly assess cash flow forecasts without a discussion of risks and risk mitigation.
For example, imagine two five-year streams of cash flow, one that generates a 15 percent return and one that generates a seven percent return. Which is better? The answer depends on the level of risk in achieving the forecasted benefits. If the seven percent return is based on seasoned existing cash flows it might be highly preferable to a 15 percent return predicated on executing construction, lease-up, and other risks.
The initial estimated energy cost savings is a critical value for investors considering energy projects. The risk side of this economic opportunity is that a building will fail to live up to performance expectations and the anticipated cost savings are not achieved.
[…] This causes the financial analyst to increase the required rate of return or to de-rate the savings before applying the financial model. This practice undermines the viability of energy projects.
Yet recent efforts have highlighted attempts to address these confidence deficiencies. The Environmental Defense Fund—through its Investor Confidence Project—is working with engineers, financial firms, insurers, regulators and utilities to unlock the flow of private capital into building efficiency investments. They are developing protocols so that energy and cost savings from retrofit projects can be predicted more accurately and realized more consistently. […]
The modeler utilizes building simulation software to project energy use and costs. By evaluating and comparing performance, the modeler determines the benefits of building siting, space layout, passive design elements, and energy-efficient components. The modeler also identifies occupant comfort issues. Building energy modeling (BEM) is often applied in the design and retrofit of buildings to evaluate proposed and alternate integrated-design solutions that satisfy project performance targets. To support investors, information must be provided that describes the risk associated with cost savings estimates and indirect benefits of improvements so their value beyond costs can be considered.
The level of risk associated with the energy savings for retrofit projects can be addressed in two general ways: 1) the approach for quantifying energy savings, and 2) methods for managing risk introduced by the modeling process. […]<
See on blog.rmi.org