See on Scoop.it – Green Energy Technologies & Development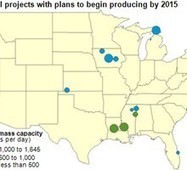 A major cellulosic ethanol project is underway in Boardman, but the U.S. is hopelessly behind on reaching its targets for production nationwide.
Duane Tilden's insight:
Cellulosic ethanol is the new promised land for renewable biofuels in the U.S. It's made from wood chips and farm waste – not food crops – so it doesn't compete with businesses that need corn for livestock or food products. If they're made from waste products, the Energy Information Administration says their lifecycle greenhouse gas emissions can be 80 to 90 percent less than petroleum products.
[…]
The EIA estimates output could grow to more than 5 million gallons by the end of this year, and up to 250 million gallons by 2015 as several plants ramp up production. That's after admitting that previous projections "have proven to be "too optimistic."
According to the agency, delays and cancellations at production plants, cheap natural gas and the country's debt crisis have all contributed to the missed targets. And then, of course, there's also the fact that it costs more.
"Total production costs for many of
See on www.opb.org