See on Scoop.it – Green & Sustainable News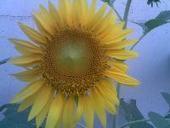 Socio-economic Characteristics
Agriculture is the predominant livelihood strategy for people in this area and it is the most important activity in terms of space employing about 90% of the labour force. Agriculture is not merely an economic activity; for most people, but it has been a way of life for many centuries. The economic base of the areas hinge on smallholder agriculture with over 98 percent of the population depending on agriculture for their livelihood. The crops grown include Guinea corn, maize, yams, vegetables, and beans.
Duane Tilden's insight:
Project Justification
The project has been formulated within the context of the United Nations Convention to combat desertification and climate change mitigation. It is also in line with the OP 4 strategy of the GEF-SGP in Ghana. The project also fulfils the National Poverty Reduction Strategy. Investment in biofuel will earn farmers ready cash which can be used to sustainable land management. The residues of jatropha and sunflower will be used as organic fertilizer to improve soil fertility. Farmers can maintain and farm on old farmlands for a long time without destroying new /virgin lands. They will be assisted. There is a guaranteed market for the products.
It is estimated that 1,000 hectares will be cultivated to grow sunflower and jatropha and agroforestry. In the short term (3 months), sunflower seeds will be used to produce crude sunflower oil for biodiesel. In the long term (18 months), jatropha will augment the biodiesel output.
See on sgp.undp.org