See on Scoop.it – Green & Sustainable News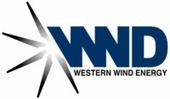 TSX.V Symbol: "WND"
OTCQX Symbol: "WNDEF"
Issued and Outstanding: 69,820,125
VANCOUVER, Jan. 14, 2013 /CNW/ – Western Wind Energy Corp. – (the "Company" or "Western Wind") (TSX Venture Exchange – "WND") (OTCQX – "WNDEF") wishes to announce an update to its efforts with both Brookfield Renewable Energy Partners L.P. ("Brookfield") and Western Wind's sales process.
Duane Tilden's insight:
ABOUT WESTERN WIND ENERGY CORP.
Western Wind is an independent vertically integrated renewable energy production company that owns and operates wind and solar generation facilities with 165 net MW of rated capacity operating in the States of California and Arizona.  Western Wind further owns substantial development assets for both solar and wind energy in the U.S. The Company is headquartered in Vancouver, BC and has branch offices in Scottsdale, Arizona and Tehachapi, California.  Western Wind trades on the TSX Venture Exchange under the symbol "WND", and in the United States on the OTCQX under the symbol "WNDEF".
Western Wind owns and operates three wind energy generation facilities in California, and one fully integrated combined wind and solar energy generation facility in Arizona.  The three operating wind generation facilities in California are comprised of the 120MW Windstar, the 4.5MW Windridge, both in Tehachapi, and the 30MW Mesa facility near Palm Springs.  The facility in Arizona is the Company's 10.5MW Kingman integrated solar and wind facility.  The Company is further developing wind and solar energy projects in California, Arizona, and Puerto Rico.
Disclaimer:  This memo is not an offering or endorsement and any actions made by others based upon the information contained herein are wholly their own.  No Liability will be assumed by the author.
See on www.newswire.ca