See on Scoop.it – Green Energy Technologies & Development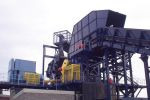 DC motor replacement – synchronous motors are increasingly the motor of choice in high power, heavy load applications.
"Synchronous motors provide high efficiency in applications … resulting in low operating and maintenance costs. … include crushers, mills and conveyor belts in mining and quarry operations; fans, pumps and compressors in steel plants; pulp and paper extruders; chippers and de-barkers in wood processing; sewage system pumps; large compressors and fans in chemical and petrochemical applications; mills and crushers in cement works; and water injection pumps on floating oil platforms."
DC motor replacement
As they have a higher efficiency level, reduced size and higher output rating capacity, synchronous motors can replace DC motors in high performance applications.
Synchronous motors have better efficiency and speed accuracy than induction motors. However, when comparing the two, the design of synchronous motors is more complex. As a result, induction motors are less expensive for a given power level, at power outputs up to 10kW. However, above this figure the higher efficiency of synchronous motors delivers lower operating costs.
See on www.connectingindustry.com